In 2022, a major area of concern for HR leaders at U.S. health systems is keeping up with labor demands. Entry-level/lower paid non-clinical roles are hard to keep staffed right now. These roles have always had high turnover, even before the labor shortage. Hospitals have to compete with retail and hospitality sectors for the same local talent pool. Target and Costco pay nearly $20/hour in many communities, plus offer easier working hours. So what advantage should health systems leverage to keep up?
At Catalyst Learning, we advise health systems to show their career pathways and associate upward mobility potential. Health systems have hundreds of roles available, so show associates that your team is committed to finding the right position for them, and opportunity for growth.
SHRM, Society for Human Resources Management, defines career paths as an ongoing mechanism to enhance associate skills and knowledge that can lead to mastery of their current job, or promotions to new positions. SHRM also states that structured career paths have a direct impact on the entire organization by improving morale, career satisfaction, motivation, productivity, and responsiveness in meeting department objectives.
Many factors influence the need for career pathways, like the inability to find and place people in the right roles, limited traditional advancement opportunity in flatter/smaller organizations, lack of diversity at the top, and employee disengagement.
For healthcare specifically, a benefit to the organization for promoting non-clinical career pathways is to differentiate itself from labor market competitors. Retail and hospitality employers may not have as many vertical, horizontal, or lattice career opportunities to offer, or a motivated HR team to help plan pathways.
SHRM found that employers who make an effort to promote career pathways and offer some training and development to bridge skill gaps can easily differentiate themselves. And further, a July 2021 poll by Monster and cited by SHRM found that: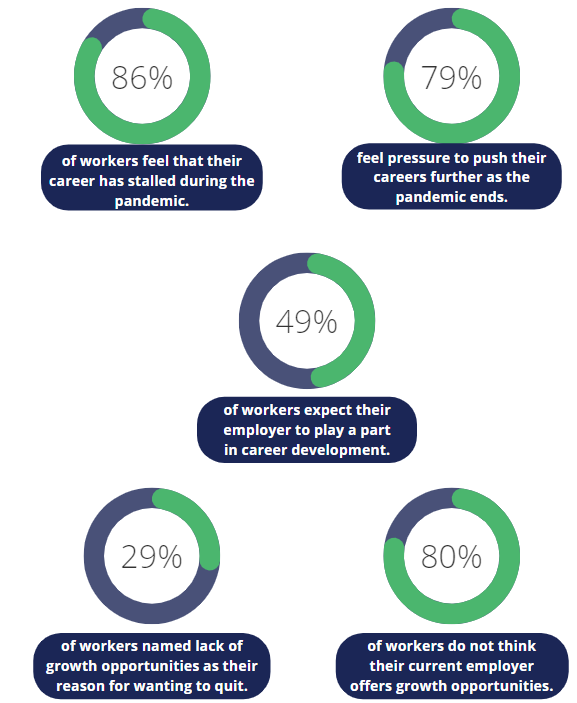 An example of transferable skills and healthcare career pathway could be a lower paid Patient Assistant position moving up to a Physical Therapy Assistant role. After all, Patient Assistants play a critical role in delivering care, they have direct patient experience and learn medical terminology. If PT Assistant is a high need role, think about development opportunities which can place Patient Assistants into that pipeline. Offer L&D for patient engagement, service recovery, and training on handling unsafe situations. Don't let your competitors beat you to it, keep your high potential employees in-house.
Another example of a critical career pathway for lower paid workers could be Help Desk Support roles transitioning to high need health IT roles. Help Desk support roles already troubleshoot basic IT problems, have strong problem-solving skills, plus are already familiar with your hospitals IT setup. Help high potential Help Desk associates to build strong relationships and understand organizational expectations, so they can take on greater responsibilities and grow in your organization.
Catalyst Learning has a six-month in-person skill development program, dedicated to frontline non-clinical associates. This program is called School-at-Work (SAW). At yearly SAW graduations, we like to hear that Catalyst Learning helps employee-learners understand medical terminology, delivering better patient experience, communication in the workplace and other needed leadership and "soft" skills. Often what we hear at SAW graduations is that graduates enjoyed seeing all the other roles and departments available for employment and envisioning their own career growth after the program. We know that any organization can be silo'd, but when thinking about career pathways, don't miss the opportunity to show high performing associates roles which could be open to them. It could help you keep your top performers.
If U.S. health systems commit to grow from within, it would require career coaching. At Catalyst Learning, in 2021 we executed a survey of talent management and learning leaders at U.S. health systems. We heard from our panel of L&D Directors/VPs that most organizations do not have a full-time HR Lead who is dedicated to career coaching low skilled associates. Some organizations provide programming with a Career Center, but do not actually work 1×1 with employees. But this may change for many systems as the labor crunch get worse. At Catalyst Learning, we hear that some organizations are even considering adding a standalone career pathway team for associates.
One last thought to help promote career pathways for low skilled non-clinical associates is to partner with local community and technical colleges. Get online with high potential employees and show them credentialed courses available to them. Or you could have local college staff (or even recently promoted internal associates who took courses) speak with potential employee learners to encourage skill growth. For any employee considering an associates degree or allied health credential, think about preparing associates for possible placement tests. Help employees see that credentialed roles can pay more than the role they are in, and navigating more education doesn't have to be "scary". Show employees a career instead of "just a job" with your organization. Promote career pathways with pipeline management, coaching, transparency about roles available, and embrace further skill development with programs like SAW or even technical college. This could be your recruiting and retention advantage over retail and hospitality companies that are hiring in your area.
"Integrating Workforce Investments with Business Impact: How Norton Healthcare is Making the Case for Advancing its Frontline Workers' Skills and Careers." National Fund for Workforce Solutions, Career Stat Program. By Dr. Randall Wilson, Associate Research Director at Jobs for the Future
"Developing Employee Career Paths and Ladders," SHRM.org